---
A Friend In The Blues
---
From Blues.gr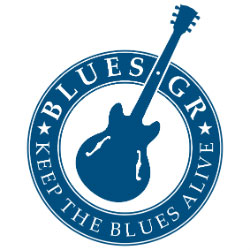 Canadian guitarist Danny Marks talks about Edward Bear, nostalgic 70s, Bluz.FM and his guitars

"For the blues to always rember its roots and always stay relevant in the now"

Danny Marks: Cosmopolitan Multicultural Blues

Toronto's own Danny Marks is a multi-talented, multi-tasking music man who has lived many lives in his four decades as a guitarist, songwriter and media personality. The long-time host of a popular blues radio program and television host, he is a recipient of the Toronto Blues Society's Blues with a Feeling Award for lifetime achievement in music and broadcast. A fixture on the Toronto blues scene, Danny's musical roots go back to the sixties as a founding member of Edward Bear. He has opened for and backed up artists as diverse as Led Zeppelin, Bo Diddley, Paul Butterfield, Stephen Stills, Humble Pie, Ronnie Hawkins, Rick James, and many more. In 2013, Marks begins another new enterprise as host of Cities in Blue on HiFi TV.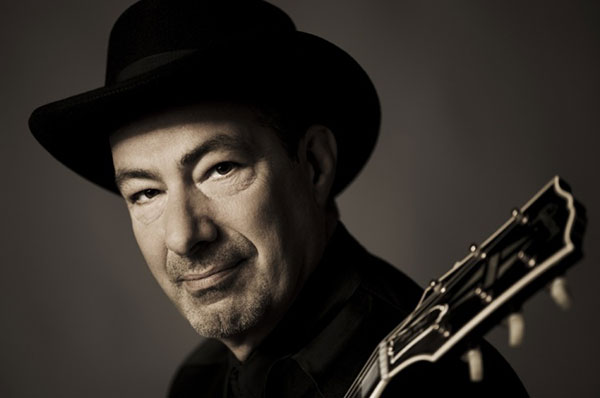 With such a storied history, it is no wonder that Danny Marks can take offerings from each day's experiences and creatively keep a record of it. As a gifted guitarist, prolific songwriter and storyteller, Danny Marks weaves incredible characters in to each song and story. A Friend in the Blues, Danny's fourth CD release is a place where friends in the blues are found. Here you will meet the Caretaker, real life blues icon Lonnie Johnson, Uncle John, Two Brothers, a Mixed Up Girl and, of course A Friend in the Blues.

Never one to stick to conventional blues chords or clichés, Danny Marks' new CD A Friend in the Blues showcases 12 original songs, written and performed by Marks on guitar and vocals and featuring a well respected cast of supporting musicians including Alec Fraser, Al Cross, Jonathan Goldsmith, Sherrie Marshall and Wayne Mills. Danny's story is expertly told in the liner notes by journalist Greg Quill. Always grateful for each day and each opportunity to share the music he loves to blues fans of all ages, Danny Marks proves that when you have a friend in the blues, you have a friend for life.

Interview by Michael Limnios

What do you learn about yourself from the blues, what does the blues mean to you?

The blues has enabled me to reach people with a message of oneness.
What experiences in your life make you a GOOD BLUESMAN and SONGWRITER?

Life's ups and especially downs, gains and losses, victories and trials.

How do you describe Danny Marks sound and progress, what characterize your music philosophy?

Living in a cosmopolitan multicultural city and growing up in a musical home with many influences, I am the product of all the music I have loved and heard.

From whom have you have learned the most secrets about the blues music?

My older brother taught many people about blues when we were young. Lonnie Johnson appeared to me as an angel when I was 19. The true story is in the song "blues for Lonnie Johnson". The guitarists, T-Bone, BB, Albert and Freddie. Etta, Mavis, Bettye LaVette and Ann Peebles have influenced. R.L Burnside, Fred McDowell and Jessie Mae Hemphill as well. Countless others.

Which was the best moment of your career and which was the worst?

The best moment seems yet to come as I am a late blooming writer and a friend in the blues is a new feeling. the really bad and down moments have provided the wisest insight and so even after shattering my wrist and being unable to play for six months, I was taking the time to re-envision. Even the bad times are good.

What is the "feel" you miss most nowadays from the late 60s and 70s?

The ease of getting around and the youthful physique.
How has the music business changed over the years since you first started in music?

Yes. Popular music has become more machine made. Indigenous forms have almost vanished. LPs, cassettes and CDs are less important. Not great for income. Music has lost value on some circles. It is no longer something an artist can make a lifetime audience with. Stars come and go.

Tell me a few things about your meet with Rick James.

Rick James tried very hard to get me in his band. The mistake he made was to play me Jericho's demo tape. I immediately joined them. Problem was most of their original members, Denny Gerard, Gord Fleming and Freddie Keeler had been replaced. I had come from a very successful band and these guys were all pretty down and out.

Which memory from Edward Bear makes you smile?

Edward Bear opened for Zep, Butterfield and Badfinger. We were a very big band in Canada and not just pop. We played blues and mostly what kids today call psyche. I had a wall of fender amps and we wailed. Life takes a strange course. After I left Edward Bear I went back to my child hood guitar teacher for lessons. He told me, in the intervening years, guys had been coming to him, asking if he could teach them to play like me!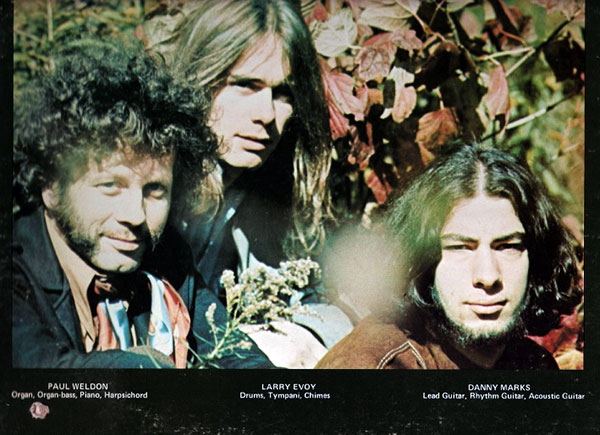 Are there any memories from Ronnie Hawkins, Bo Diddley, and Stephen Stills, which you'd like to share with us?

Stills was drunk. Bo was cool and real. Nobody else can do his beat like he could. Hawkins taught us all in Toronto firsthand about rock and roll. He has a sweet smile.

Do you have any amusing tales to tell from Mama Lion?

Mama Lion flew me to L.A. They said they liked my style and they I reminded them of Robbie Robertson. Once I got there they told me to plug into this huge bank of acoustic amps and proceeded to play real loud and heavy. I lasted a week. All I could think about was my new girlfriend in Toronto a dancer of the exotic kind. It was the seventies.

What is the best advice a bluesman ever gave you?

Play from the heart.

What the difference and similarity between the Canadian and US blues scene ?

Canada is a big country spread far apart. US is where the blues began.

What advice would you give to aspiring musicians thinking of pursuing a career in the craft?

Do it for a loving and it may become a living.
What's the best jam you ever played in? What are some of the most memorable gigs you've had?

The jams we had at Albert's hall on TV for the Stormy Monday show are the best because the best musicians and club, great audience and really high level of listening as well as playing. we have a regular Saturday spot at the Rex in downtown Toronto and seeing people enjoy up close is fun but playing the huge stage at sound academy for a rocking crowd is also invigorating.

Some music styles can be fads but the blues is always with us. Why do think that is? Give one wish for the BLUES

For the blues to always rember its roots and always stay relevant in the now.

When did your love for collecting guitars come about? What are your main guitars right now and why?

The variety of life is fascinating. My current favorite working guitar is a Fender Stratocaster which is very light, of swamp ash, purchased online from Dallas. Favorite electric recording guitar is a Gibson RD79 artist. It is radical. Favorite acoustic electric is a Kay value leader like Lonnie Johnson played and 1927 Gibson L-O as used by Maybelle Carter similar to Robert Johnson L-1.

You have pretty interesting radio show "BLUZ FM". Where did you get that idea? Do you remember anything fanny on air or in studio?

For many years I was on CBC radio Canada. As that contract ended another radio station offered me to host a blues program. It's a supreme example of blues rescuing me. I had no idea what to call the program. The station motto was hear the colour of jazz so I said all the colours of the blues. The brass liked that. The name of the station is Jazz.FM, I asked to call the show Blues.FM because that spelling was copy written by someone else we took Bluz.FM.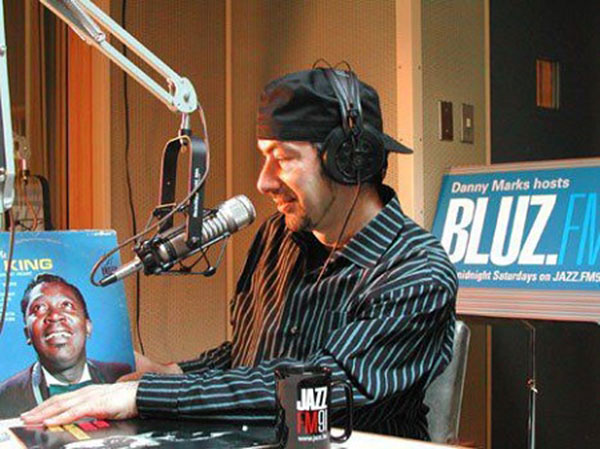 Which is the most interesting period in your life and why?

Nostalgia is golden. The moment is all that matters. The present is a gift. Tomorrow may be most interesting because you never know. If you can visualize it happening it can. Facilitating that is intriguing.

Which things do you prefer to do in your free time? What is your MUSIC DREAM? Happiness is...

In my spare time I like to be in nature by canoe or even simply on foot in the woods or countryside even in the city park. Happiness would be to continue playing and having the music heard and seen around the globe. To travel and spread the message of togetherness and peace, to share the world and try to help bring humanity back from the brink.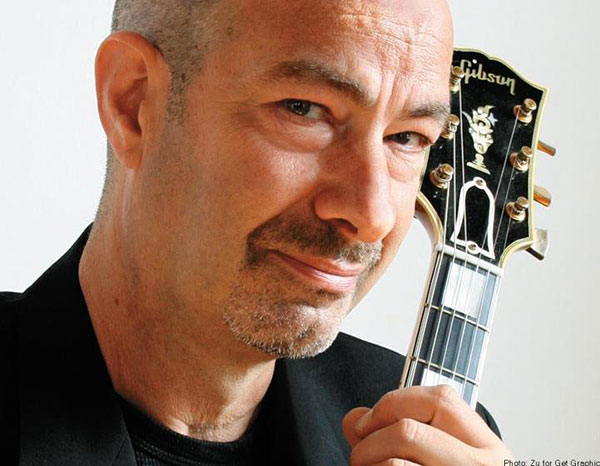 ---
From Cashbox Canada
Danny Marks : A Friend in the Blues

Submitted by Don Graham

Danny Marks, as his new CD says, has "a friend in the blues " or more accurately perhaps, "the blues" has a friend in Danny Marks.


Blues music is probably one of the most misunderstood and misinterpreted types of modern music. At least from where I listen. There's the Delta blues, acoustic, bottle neck type, the rockin' Chicago style electric blues type, the slick, orchestrated blues to name a few. Sometimes blues is thought of a twelve bar, 1,4, 5 progressions and repetitive guitar riffs of tales of love and misfortune with the opposite gender and financial worries.

Fortunately Danny Marks transcends all these stereotypes, giving the blues a fresh and colourful sound and texture.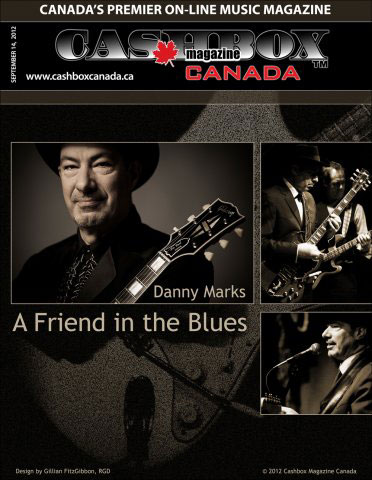 A fixture on the Toronto blues scene, Danny's musical career goes back to the hip Toronto sixties, where he was as a founding member of Capitol Record's group, Edward Bear. "It really wasn't my kind of music though. It was a lot more pop than I wanted to be. I was always drawn to the honesty of the blues. My dad always played music in the house growing up, Cab Calloway and such, but my older brother got me into the great Jimmy Reed."

Danny has recorded his fourth album, "A Friend in the Blues" with Alec Frasier, who co-produced the project as well as playing bass and adding vocals, Al Cross is on drums, Jonathon Goldsmith on piano and B3, Sherrie Marshall vocals and Wayne Mills on sax.

This collection is a great look into the life of a Toronto icon and entertainer/guitar master who has and does play all types of music. The record opens with "Caretaker", a well written, slow blues tune that uses the analogy of a man's life as a building; that he is the caretaker of and although it's empty and about to be torn down, he will persevere.


"Blues For Lonnie Johnson" is Marks' homage to the blues legend whom he met in Yorkville when he was a 19 year old kid. " He had a light around him when I saw him, an aura. It was magical." Marks believes this was a sign of things to come for him and the blues music he loves so well.


"Blues Party Tonight" rocks and is Danny Marks boogie blues at its best. "Uncle John" is Danny's sweet tribute to the blues great Mississippi John Hurt and showcases Marks' acoustic blues picking masterfully. Excellent track. "Back To The Blues" is autobiographical in that it highlights the different types of music Marks performs today but something always draws him back to the blues. His musical love is the blues. He is a recipient of the Toronto Blues Society's Blues with a Feeling Award for lifetime achievement in music and broadcast. "Two Brothers" is a haunting story of love and a family sung with heart and soul. The reggae flavoured good timey title track " A Friend in the Blues " is an infectious "ditty" well played, arranged and sung.

The moody "The Other Side" is haunting and airy with interesting guitar sounds and textures. The classic gospel flavoured "Lonesome Valley" is a toe tapping, head bobbing, spiritual country arrangement, believable and heartfelt. It also shows Marks' versatility, both vocally and instrumentally. "Blues of the Future" is a riff laden tune with an interesting and thought provoking lyric.




"Mixed Up Girl" with it's slide guitar and Delta vocal is a good old time blues tune that deserves a second listen. The set ends with the wistful "Maybe Tomorrow", again sung with the heart and soul of a true "bluesman."


Danny Marks is a fixture in the Toronto music scene. Audiences love him and fellow musicians love and respect him as well. He has stayed true to himself and his music and the sense of contentment is obvious in his songs and his satisfied and infectious smile.


His future is looking bright as, in addition to his weekly radio show, Bluz.FM on Jazz.FM 91 on Saturday nights from 8 P.M. til midnight, he has secured a deal with HiFi to do a television series, Cities in Blue. The show is a music travelogue series which will be seen on Hi Fi TV during the new year & beyond. Danny Marks and company will travel to the land where blues was born. During season one, they'll examine the present & future of the Blues in NYC, New Orleans, Memphis, Chicago, Piedmont, Kansas City, Mississippi & Houston!


For bluesman Danny Marks, life is good and he'll always have a friend in the blues.
---
From Exclaim.ca
By Jason Schneider
It's impossible to be connected to the Toronto blues scene without knowing Danny Marks. The singer/guitarist has been a pillar of that community since emerging in the late '60s with Edward Bear, later turning his musical passion into a successful career as a radio and television host. A Friend in the Blues finds Marks writing original material again after covers collection Big Town Boy, and the new album's 12 tracks show off his vast knowledge of different styles. Tracks such as "Caretaker" and "Back to the Blues" have a soulful B.B./Albert King depth, while "Blues For Lonnie Johnson" and "Uncle John" pay tribute to two of the greatest acoustic guitar players, who Marks was fortunate enough to witness in his youth. Marks's greatest strength is combining all of these influences into a concoction that goes down like fine blended scotch. That smoothness comes across not only in Marks's highly refined guitar playing, but also his mellifluous pipes. A Friend in the Blues is not a bar band album, but in fact shows Marks fully emerging as an elder statesman. He is someone who understands that the blues is more than a musical form ― it's a way of life.
---
From Soundguardian.com Click for article
---
From Bluesmagazine.nl Click for article
---
From CMW.net
An authentic, affectionate and unhurried sounding Canadian blues album featuring an all-star cast. The 12 tracks take the listener on a journey down Highway 61, picking up tombstone legends in Chicago, Memphis, New Orleans and Baton Rouge. Listen closely and you can hear spirituals, jazz, rhythm and blues, electric blues, rock and roll-and Danny Marks' winsome vocals.
---
From LABEAT.net
Toronto bluesman Danny Marks wears his influences on his sleeve and in his songs on his fourth CD "A Friend In The Blues."
Marks has been a fixture on the Toronto blues scene for many years. This CD shows why. His music sounds like a smooth, jazz tinged Amos Garrett as he sings about Lonnie Johnson on "Blues For Lonnie Johnson."

He drops several blues names , "BB, T-Bone, Mavis" and many more in the catchy, horn and piano powered "Blues Party Tonight."
The horn section makes "A Friend in the Blues" sound like it was recorded in the late '50s.

On the other hand, "Uncle John," and "Back to the Blues," are tenderly picked acoustic songs that sound like they were written on the back porch with a few good friends on a warm summer night.

"Back to the Blues" has a tasty guitar solo and soulful background vocals from Sherie Marshall.

He adds a touch of gospel on " the Lonesome Valley," but throughout, his vocals and guitar playing reminding me of Amos Garrett.
The title track is a peppy acoustic number guaranteed to get your head nodding and toes tapping.

"The Other Side, is a loungey spaghetti western style number with a catchy '60s pop style guitar riff which sounds like a sitar.
One of the highlights, "Mixed Up Girl," is very similar to blues classic "Rolling and Tumbling." It has a sexy slide guitar.
— By Richard Amery, L.A Beat Editor
---
Big Town Boy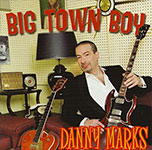 ---
From Billboard - Dec 18, 2004
Marks Revisits '60s Hits
Toronto-Based Guitarist Covers Local Favorites On 'Big Town Boy'
BY LARRY LEBLANC

TORONTO - As a teenager, Danny Marks would lock himself in his room with a Seabreeze record player and a stack of 45s and try to play along on his guitar.
Today, as a seasoned and lauded guitarist, he has deftly captured the feisty spirit of vintage Toronto recordings on his album "Big Town Boy."
"I have carried these songs with me for years," says Marks, who also hosts the blues program "BLUZ.FM" on Toronto jazz station CJRT. "These were local hits. I remember where I heard a lot of them for the first time."
Marks has previously issued three albums: "Guitarchaeology" (1997) and "True" (2003), both on Cabbagetunes, and "Surfin' Safari" (1999) on Avalon Records.
The new album draws mostly on Toronto radio hits from 1963 to 1965. It includes his renditions of such R&B-styled hits as "Charlena" (Ritchie Knight & the Mid-Knights), "Take Me Back" (David Clayton Thomas & the Shays), "Keep On Running" (Grant Smith & the Power), "Love-Itis" (the Mandala), "Any Other Way" (Jackie Shane), "Mary Lou" (Ronnie Hawkins) and "Big Town Boy" (Shirley Matthews).
There are also versions of such '60s rock hits as "Nothin' " (the Ugly Ducklings), "If You Don't Want My Love" (Jack London & the Sparrow, precursor to Steppenwolf) and "It Was I" (Big Town Boys). The album also features two non-Toronto covers from the era, "Tiger" (Fabian) and "I Only Want to Be With You" (Dusty Springfield).
Few Canadian companies recorded local talent in quantity in the '60s. Only a handful of singles for Arc, Red Leaf, Yorkville, Quality, Capitol, Apex and RCA remain as evidence of what was then hailed as the "Toronto Sound."
"I was too young to go to clubs, but I was affected by these records," Marks says. " 'Big Town Boy' was magic. I also loved 'Any Other Way' . . . 'Charlena' was a great party record. Every band in Toronto in the '60s had to play that song."
The Mid-Knights' "Charlena" reached No. 1 in 1963 on Toronto top 40 station CHUM, at the time a feat unheard-of by a local band. "That record changed the band scene in Toronto," claims Mid-Knight bassist Doug Chappell, who retired in 1997 as president of the Mercury Records division of PolyGram Canada. "It gave everybody hope."
Marks says guitarist Robbie Robertson, with Hawkins' backup band the Hawks, laid the R&B foundation of the city's scene in the '60s. He showed the way for such blues-styled guitarists as Domenic Troiano, Terry Bush and Freddy Keeler.
"My guy was Freddy Keeler, who played with the Shays," Marks says. "I can remember being in the back of my dad's car and hearing Freddy's guitar solo on 'Take Me Back' and remembering how great it was."
Keeler says, "Danny mentions me in interviews, which is neat. It's impossible that so many years have gone by since then."
Also included on the album is "You, Me and Mexico," a 1970 Canadian hit by Marks' blues rock band Edward Bear. "I felt it was important to address my past," Marks says. "It's a beautiful song."
---
From The Globe And Mail
In the mind of the Canadian music fan, if not the musician himself, success has long been linked to latitude, and the way up has always been down, geographically speaking.
By that measure, Danny Marks, a guitar whiz barely out of his teens, was doing pretty well for himself round about 1970, as a limousine carried him up the California coast, a Playboy bunny at his side. His Toronto band had just played L.A.'s fabled Whisky a Go Go and was on its way to Berkeley and bigger things beyond.
"I could go into a record store, and between Beach Boys and Beatles was Bear, Edward Bear," Mr. Marks says, recalling the band's brief trip from bohemian Yorkville, up the Billboard charts and back down again.
By the classic measure, their success was short-lived -- Edward Bear disbanded in 1973, right after their biggest hit, the catchy but syrupy Last Song, reached No. 3 in the United States -- and shorter still for Mr. Marks, who had quit the band two years earlier in search of a grittier vehicle. Instead, he found himself back in Toronto, where he spent the next 30 years in bars, belting out the blues and whatever else the drunks wanted, until he could take it no more.
Surprising, then, to find the 54-year-old Mr. Marks so upbeat as he packs a guitar, pulls on his tuque and makes his way west across the city, through a Saturday-night snowstorm, to play at a house party for a crowd of aging, hippie-era rabble-rousers.
He has reasons, practical and philosophical, to smile -- from the positive buzz surrounding his new record, Big Town Boy, on which he covers Toronto-bred hits from the 1960s, to the perspective that comes with age and experience.
"Back then, we all wanted to be like the Beatles," says Mr. Marks, grizzled but still boyish as he relaxes in his Cabbagetown row house before the gig Saturday night.
And now?
"I think success is something you want to share with as many people as you can, not always knowing you're going to get it back, many fold, in return."
Clearly, Mr. Marks hoped for bigger returns when he left Edward Bear, having heard, "You're too good for this band," too many times to ignore. But he didn't realize how difficult it would be to find such a successful replacement.
He was soon faced with new words, like, "You're the guy who used to be in Edward Bear," and questions about whether he was "keeping busy." His insecurities sufficiently aroused, Mr. Marks set out to play every night he could in bars in and around Toronto, earning the nickname "Human Jukebox" for his crowd-pleasing ability to play any hit requested.
Along the way, he took side jobs with decent exposure, including a regular stint on Arthur Black's since-retired CBC Radio show Basic Black, and Stormy Mondays, a now-defunct jam session on TV cable stations across Canada.
From the old Hotel Isabella and Grossman's Tavern to the Silver Dollar Room and former Albert's Hall, Mr. Marks honed his bar act to a science, combining butter-smooth guitar-playing with an able, comedic sense of showmanship. He loved it, or at least he told himself as much, until he came to a realization a couple of years ago.
"People sort of don't respect you. You can pour your heart out, and at the end, a drunken guy will still come up and demand more."
Mr. Marks scaled back his bar schedule to focus on his weekly blues show on 91.1 FM, and on songwriting and recording. Then, just over a year ago, a fall from a ladder left him with a badly broken wrist, along with dark thoughts of life without guitar, the only work he's ever known.
As friends rallied to help, Mr. Marks spent three months recovering before his physiotherapist would let him resume playing, starting with a ukulele -- the same instrument that got him started as a little boy.
The experience left him all the more determined to leave his bar days behind and focus on recording. Big Town Boy has drawn positive reviews locally and earned Mr. Marks a write-up in last month's Billboard magazine.
"It's getting the most attention since Edward Bear," he says, with a look of mild wonder at having managed to please others by putting himself first.
Mr. Marks also came away with a greater appreciation for the help of others, which he returns in kind at Saturday's house party. He fills in on guitar for his old friend Brian Cober of The Nationals, who broke his hand after Alex MacDonald, 56, hired him for his birthday party/Rochdale College reunion.
Truth be told, Mr. Marks would rather be at home in Cabbagetown fiddling in his makeshift studio or picking away at one of his 60 guitars of varying vintage.
Instead, he stays on until 3 a.m., keeping Mr. MacDonald's guests -- including federal NDP Leader Jack Layton and his wife, city Councillor Olivia Chow -- bouncing on the living-room floor, amid air laden with smoke from tobacco, among other organic substances.
"Okay, shake it up, Jack Layton," he shouts into his microphone, launching into Johnny Cash's Folsom Prison Blues.
West-end Toronto on a January Saturday night is a long way from southern California, but for Danny Marks, the big town boy, it's home.
---
From NOW Magazine
This album reminds me of those late-night Time-Warner ads that scoll through hundreds of oldies hits asking the question "If you had to buy all of these albums individually how much would it cost you?" If you love golden oldies and don't have the bread or time to do the searching, pick up a copy of Big Town Boy and call it a day. Danny is a low-key Toronto legend who's been playing since the Leafs actually won cups, and his renditions of Richie Knight and the Mid-Knights' Charlena and Dusty Springfield's I Only Want To Be With You are spot on. The way he captures not just the mood of the time, but the sound as well, is truly exceptional. So much so that his few original numbers are almost indistinguishable from his beloved classics. by BRENT RAYNOR Rating NNN
---
From The Nail
"Big Town Boy" started out as a simple party record, but for longtime Toronto-based guitarist and singer Danny Marks, it soon became a journey into the past, rediscovering and playing tunes one would have typically heard a bar band in Yorkville performing during the 60's, and as such, it's more of a tribute to the "Toronto Sound" of that time, covering a gold mine of Canadian classics.

Things get underway with the pure rockabilly of Fabian's "Tiger." Then there's some sweet 60's pop, with Ritchie Knight & The Mid Knights' "Charlena." Shirley Matthews' "Big Town Boy," Tommy Graham & The Big Town Boys' "It Was I," and Keith Hampshire's "Each & Every Day" (originally done by Manfred Mann, but covered by Luke & The Apostles and Edward Bear back in the 60's) soon follow. But it's when Danny gets into that psychedelic 60's sound that I love so much that things get really interesting, and his covers of Mandala's "Love-Itis," The Shays' "Take Me Back," The Sparrows' "If You Don't Want My Love," and The Ugly Ducklings' proto-punk "Nothin'" are pure dynamite. He even re-does Edward Bear's first big hit, "You Me & Mexico," which was originally sung by drummer Larry Evoy, to close out the album.

Danny has been known for years for his ability to play almost any 50's or 60's hit on request, and this new album once more shows off his great talent and versatility on the guitar, and his chameleon-like ability to change his voice to suit any style. Amazing, and a ton of fun! Check out Danny's website at www.dannym.com.
Review by Marty Murray
---
From Exclaim! by Eric Thom
Some have labelled this as an "oldies fix" but that really isn't the point. Local hero/radio DJ/guitar god Danny Marks grew up like the rest of us, glued to his radio and grooving to his who's who of forty-fives in his personal quest for whatever it is that good music does for the soul. Across 14 tracks, Danny celebrates the spirit of the originals as he gives tribute to the core of the magic between '63 and '70, with a clear focus on Toronto chart intenders including his own Edward Bear (who struck gold in '70 with "You, Me & Mexico" — brilliantly updated here). He not only succeeds in recapturing the glory days of rock'n'roll, rockabilly and everything in-between, but he manages to underline the excitement of the entire British Invasion in the process. And while Danny's guitar has long acted as his true voice, on this recording, his actual singing voice takes front and centre with the elasticity to deliver on all of the above (try "Nothin'" on). Brilliant arrangements achieve a casual feel, which is so much harder to pull off than it may seem. This well-produced work-of-art emanates the warmth of the originals as it injects additional heart along the way. This is no oldies retread — it's a progressive step forward, having borrowed from the past, before taking it to the next stage. Big Town Boy is a rare indie release deserving of a global party audience for having crystallised, if not energised, this time period so expertly.
---
From Livin' Blues by Gary Tate
DANNY MARKS: BIG TOWN BOY - Big Town Boy revisits Toronto's Yonge St strip when R&B formed the musical bedrock. Ace guitarist Marks--also host of BLUZ.FM---has simulated a smile-inducing time capsule: a revival of musical memories not dissimilar from the nostalgia rush experienced when leafing through your high school yearbook. It was a vibrant era, stretching from 1958 to the early seventies. Local deejays (on stations CHUM, CKFH, and CKEY) helped spread the message. Anyone 40 years and over, and who grew up within a 100-mile radius of Toronto should fondly recognize many of these 14 selections.
The 'Toronto Sound' was destined to have a major impact internationally, witness The Band, Steppenwolf, David Clayton Thomas (Blood Sweat & Tears), Edward Bear, and so many others. Danny Marks was vital to that scene, and most satisfyingly, he's assembled a tight little band to salute these blasts from the past and has captured the pure and simple fun that rippled through these classics. Ronnie Hawkins & the Hawks crucial Mary Lou (1958) set the table, but Charlena (1963) became the rite of passage for any dance band, and Marks' version perfectly captures its essence. Little Jackie Shane's, Any Other Way was another groundbreaker (what a contagious hook!) that put Toronto on the R&B map. Big Town Boy by Shirley Matthews galloped to a thundering beat with a wall-of-sound reminiscent of Phil Spector, while Marks & pals fascinate by relying on a basic off-the-floor treatment. Splendid! Love-itis is a knockout rocker hearkening back to Roy Kenner of Mandala fame on vocals, and Danny does a righteous cover of this Toronto anthem. Got a hold on me yeah! America's Skip & Flip did It Was I--a sock hop ballad to slow things down--and Tommy Graham & the Big Town Boys re-interpreted this ditty for Canadians. As with some other tracks, it's a cover of a cover of a cover. Post 1964, the impact of the British Invasion somewhat altered the 'Toronto Sound', the example here being Danny's cranked-up version of Spencer Davis' Keep On Running (E.G. Smith & the Power did it back then). Jack London, an ex-Brit, originally performed If You Don't Want My Love, backed up by The Sparrows who soon became John Kay & Steppenwolf. There's much more, including Danny's heartfelt rendition of Dusty Springfield's I Only Want To Be With You. Completing the retro circle is a reprise of that major worldwide hit You Me And Mexico. Danny tips his sombrero to his former Edward Bear band mates: Larry Evoy and Paul Weldon). Ole! Thanks to Danny Marks for keeping the torch lit, and for reminding everyone why this Big Town became an influence on the Big World. MP3- Love-itis | surf to www.dannym.com
---
From The Toronto Star by Greg Quill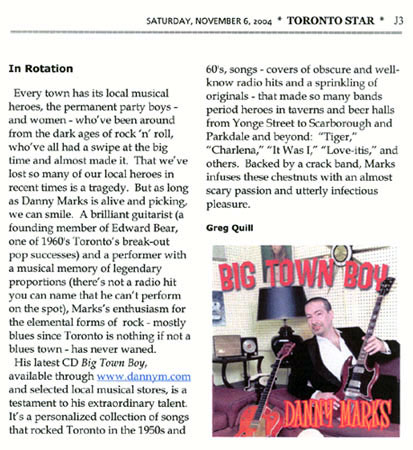 ---
When you're down and out, flat and busted, in need of some down-home musical healing and an exceptionally friendly voice, nothing beats Toronto blues guitarist/singer/music historian Danny Marks' Saturday night BLUZ-FM program on local jazz station JAZZ FM91.
Marks has been a fixture in Toronto's live music scene for longer than he will admit – except when it's to remind folks that his first band, Edward Bear, opened for Led Zeppelin at the O'Keefe Centre in 1969 – and has earned the respect of successive generations of musicians for the depth of his musical knowledge, the elegance of his musical vocabulary, and his extraordinary skill and taste as a guitarist. More importantly, Marks has proven himself time and again to be a friend and willing mentor to all local musicians who've made a life commitment to keeping it real.
All that love and authority pours forth every Saturday night when Marks takes the air, and we are grateful for his talent, wit and his almost alarmingly good nature.
Greg Quill for the Toronto Star
---
RESPECT!
Danny Marks, veteran Toronto roots musician, songwriter, blues guitarist and host of Jazz FM91's popular Saturday night program, BLUZ-FM:
We need to show a little respect for ourselves and each other. When I was growing up here, people referred to this city as Toronto the Good. No garbage on the streets; Sunday was a day of rest. Polite people. Now look at us!
I feel it starts from the ground up, literally. Look down and around. Let's each take responsibility for the street where we live/work. If we each cleaned up our area it would be easy. In some cities it's illegal to spit gum on the sidewalks. We walk through ashtrays, our streets and TTC vehicles strewn. ...
Let's be a good example. Mother used to say "love yourself." That could be the root of the problem. Let's respect ourselves, each other and our city.
Let's do more to protect unique buildings, businesses and neighbourhoods from so-called development. Downtown Toronto can still be saved. Even from a business standpoint, our uniqueness can help us prosper.
Spring time is rebirth. Rains will clean. Co-operate with nature, or she will wipe us out.
—Greg Quill
---
From Razor Magazine
---